World leaders have shared their grief and shock at the terror attack in London in which three men mowed down pedestrians in a van on London Bridge and later stabbed dozens of people near Borough Market.
The attack has killed seven people and injured over 40; police shot and killed the three attackers eight minutes after the first emergency call.
US
Whatever the United States can do to help out in London and the U. K., we will be there – WE ARE WITH YOU. GOD BLESS!

— Donald J. Trump (@realDonaldTrump) June 3, 2017
American President Donald Trump was one of the first leaders to respond to the incident, telling the UK in a tweet: "We are with you".
Our thoughts & prayers are w/ the victims, courageous first responders & all the people of London. As President Trump said: WE ARE WITH YOU.

— Vice President Mike Pence (@VP) June 3, 2017
Mike Pence echoed the words of the President, sending "thoughts & prayers".
Canada
Awful news from London tonight. We're monitoring the situation – Canadians in need of help please see below: https://t.co/NVHwMlD2uu

— Justin Trudeau (@JustinTrudeau) June 3, 2017
Canadian President Justin Trudeau was sorry to hear the "awful news", letting Canadians who may have been caught up in the incident know where they could access assistance.
Australia
Our prayers and resolute solidarity are today as always with the people of Britain in the face of the shocking terrorist attacks in London.

— Malcolm Turnbull (@TurnbullMalcolm) June 4, 2017
Australian Premier Malcolm Turnbull shared "prayers and solidarity" with the people of Britain on behalf of Australia.
India
Attacks in London are shocking & anguishing. We condemn them. My thoughts are with families of the deceased & prayers with the injured.

— Narendra Modi (@narendramodi) June 4, 2017
Narendra Modi called the attacks "shocking & anguishing", saying his thoughts were with the families of the deceased, and families of the injured.
France
Face à cette nouvelle tragédie, la France est plus que jamais aux côtés du Royaume-Uni. Mes pensées vont aux victimes et à leurs proches.

— Emmanuel Macron (@EmmanuelMacron) June 4, 2017
New French President Emmanuel Macron took to Twitter to tell followers: "In the face of this tragedy, France is more than ever at the side of the United Kingdom. My thoughts go to the victims and their loved ones."
Germany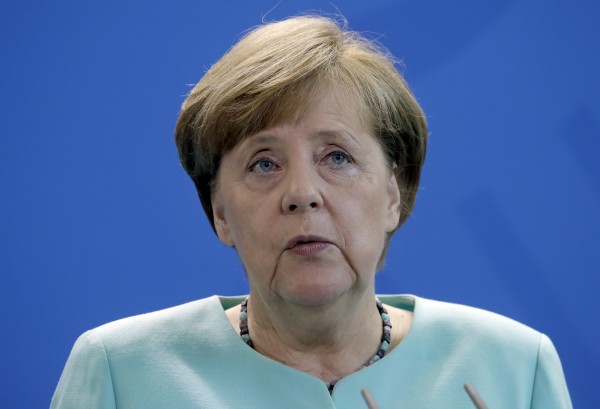 READ MORE: BREAKING: "MULTIPLE CASUALTIES" REPORTED AFTER LONDON "TERROR ATTACKS", REPORTS MANHUNT UNDERWAY
German Chancellor Angela Merkel said in a statement released Sunday morning that she learned with "sadness and dismay" of the attacks.
"Today, we are united beyond all borders in horror and sorrow, but also in determination," she said.
"In the fight against every form of terrorism, we stand firmly and with determination at Britain's side."
Spain
Sigo con preocupación los ataques en Londres, triste información. Nuestra solidaridad y apoyo a las autoridades y al pueblo británico. MR

— Mariano Rajoy Brey (@marianorajoy) June 4, 2017
Spanish Prime Minister Mariano Rajoy wrote in Spanish on his Twitter account: "I am following with great concern the attacks in London, sad news. Our solidarity and support for the British people and authorities."
READ MORE: BREAKING: "MULTIPLE CASUALTIES" REPORTED AFTER LONDON "TERROR ATTACKS", REPORTS MANHUNT UNDERWAY
Italy
#Londra ancora sotto attacco Solidarietà al Governo britannico e impegno comune contro il terrorismo Uniamoci nel ricordo delle vittime

— Paolo Gentiloni (@PaoloGentiloni) June 4, 2017
Italian Premier Paolo Gentiloni tweeted Sunday: "Solidarity with the British government and a shared effort against terrorism. We are united in memory of the victims."
Russia
According to the Associated Press, Russian President Vladimir Putin said the London attack is "shocking in its cruelty and cynicism" in a telegram of condolence sent to Theresa May.